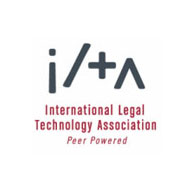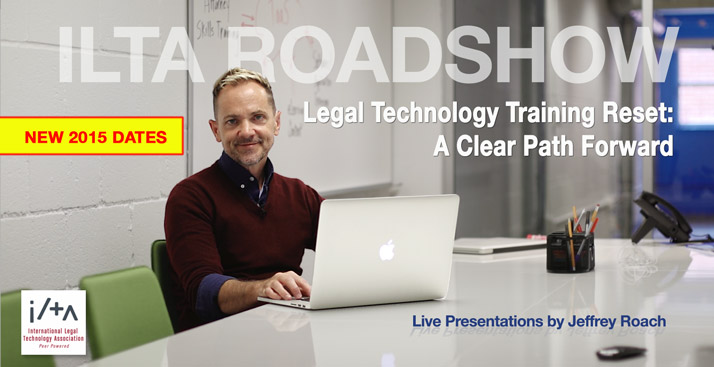 Our popular ILTA Roadshow Legal Technology Training Reset: A Clear Path Forward continues in 2015. Presented by Jeffrey Roach industry expert on technology training and training program redesigns.
When you tinker with your technology training strategy, someone is bound to trot out the old adage, "If it ain't broke, don't fix it." Here's the thing: It is broke! Many law firms are still using training systems and practices last redesigned over 20 years ago.
While these reliable, if antiquated, programs may help to maintain the status quo, they aren't going to significantly move the needle. They don't address modern law firm technologies or the increased need for legal professionals to effectively utilize technology to meet client demands.
It's time we take a step back, re-asses law firm technology training and audit our existing training practices. What's working, what isn't — and why? Who is the training designed for? Are training goals and application use/adoption in alignment?
We will cover the ins-and-outs of the training audit, including training department analysis, performance analysis, skills and learner review, client audit preparation, training needs, GAP analysis and recommendations for next steps. Come prepared to rethink things, and leave with a tangible action plan for resetting and accelerating your firm's technology training.
Jeffrey Roach is the President and co-owner of Encoretech, where he focuses on better equipping people with technology knowledge and know-how. With 25 years of experience working with companies to design and deliver their adult learning strategies, he has been helping ILTA members design legal technology training programs for the last 20 years. Jeffrey has worked with hundreds of the top law firms, legal departments and training departments in the country, prioritizing their training goals and objectives, and showing them how to deliver outstanding, engaging learning experiences. Contact him at [email protected].
Mark your calendar for one of the following 2015 ILTA Roadshow Presentations (More dates coming soon):
Dallas
1/20/2015
New York City
3/4/2015
Boston
3/5/2015
Philadelphia
3/10/2015
Pittsburgh
3/10/2015
Washington, DC
3/11/2015
Atlanta
4/7/2015
Detroit
4/7/2015
Minneapolis
4/15/2015
New Orleans
4/15/2015
Buffalo
4/16/2015
Toronto
4/16/2015
Chicago
5/19/2015
https://encoretech.com/wp-content/uploads/2013/11/ILTA-Roadshow.jpg
192
192
Encoretech
http://encoretech.com/wp-content/uploads/2013/04/encoretech-logo-400x-Trans1.png
Encoretech
2015-01-03 15:41:49
2018-06-20 09:27:51
ILTA Roadshow 2015, Legal Technology Training Reset: A Clear Path Forward